Nine Powerboat Styles and Functions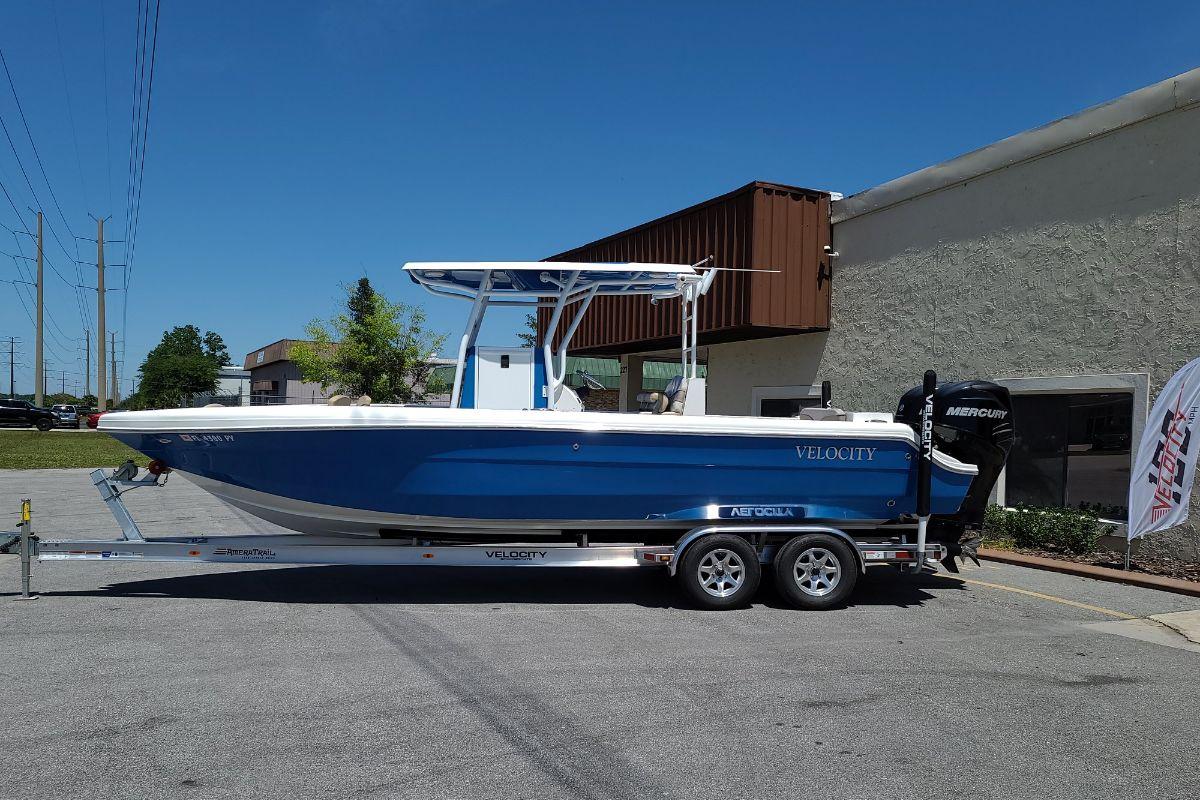 A powerboat, also called a motorboat or speedboat, is a boat powered by an engine. Some motorboats have inboard engines, and others have an outboard motor installed on the back, including the internal combustion motor, the gearbox, and the propeller in one mobile unit.
Some powerboats even have a combination inboard-outboard engine, where the internal combustion motor is installed inside the vessel, and the gearbox and propeller are outside.
Powerboats vary significantly in size. As with any watercraft, a boater should take a boating safety class before they head out on the water. Our experts on power boats in Sanford, FL, explain these familiar styles of powerboats and their uses.
Bass Boat
Bass boats are typically 14′ to 23′ and are usually used for freshwater fishing. They include a low freeboard and a V hull. They are designed in bass fishing on inland lakes and rivers. Due to the unique gear, high horsepower outboards, and trolling motors, they are relatively high-priced vessels.
Bay Boat
Bay boats maintain a low profile. They are developed for use in shallow waters of large shallow bays, estuaries, or close to the shore. Bay boats are 18' to 24′ in length and are made of fiberglass because they are employed in salt or brackish waters. As a result, they have more freeboard than a flatboat.
Center Console
Center console crafts range from 13'–45′ and are so-named because their helm is on a console in the boat's center. Like walkarounds, the open hull allows anglers to walk from bow to stern and around the console without climbing the gunwales. Most employ outboard motors for propulsion, and the larger boats come fitted for offshore fishing.
Convertible Fishing Boat
Convertibles are 35-foot and larger boats suited for offshore fishing and cruising. They have big cabins, galleys, and berths. They are ideal for pleasure cruises and offshore fishing. The flybridge with raised helm permits spotting flotsam, other small vessels, individuals, or fish. They have a considerable fishing deck aft.
Cruiser
Cruisers range from 21'–45′ in length and include a cabin in the boat's bow. Cruiser cabins are developed for an overnight stay and are generally large enough for a little galley, several berths, and an enclosed head.
Cuddy Cabin
Cuddy cabin boats include a small cabin for storage or a miniature seating area, which may accommodate a berth or head. They are typically about 22–30 feet in length.
Dinghy
A dinghy is a little boat, usually 7–12 feet long, powered by oars, small outboards, or sails. Often carried or pulled by a larger boat for running ashore. They are low-cost and an ideal choice for those new to boating.
Downeast Cruiser
These vessels are native to seaside New England. Also called lobster boats, they are constructed for offshore cruising and fishing. It is typically a 26' to 40' craft with a cabin with berths, a head, and a dining area.
Fish n Ski Boat
Fish n Ski boats are employed for fishing or skiing. These are family boats with accessories for each application. They feature comfortable seating, offer live wells and tie downs for poles, and have removable, raised tow bars and ski lockers. They are usually 16–24 feet in length.
These are ust a handful of powerboat styles and functions. Contact us today if you are looking for power boats in Sanford, FL.